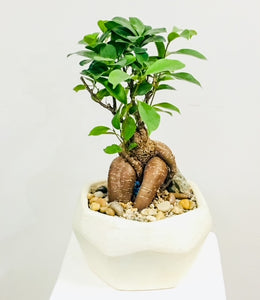 Ginseng Bonsai in Designer Vase
Description
---
Ginseng bonsai are classic bonsai that are easy to care for. They can be grown indoors and are lush and tropical, giving you that exotic feel. 

These stylish trees in a pot bring life and nature to you and make great gifts or additions to your personal collection!
Bonsai trees are not always available so get them while they are in stock!
You May Also Like
Florist Choice
Daily Deal
Send them a unique, one-of-a-kind arrangement handcrafted with a personal touch.
From $50.00