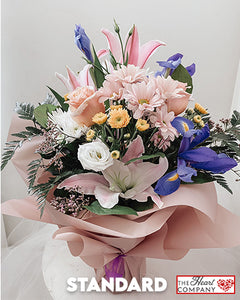 Merry Melody - Vase Arrangement
Description
---
Beautiful lush pink/garden-themed vase arrangement with lilies, roses, and seasonal accent flowers.
Merry Melody has a bright, cheerful ambience and is perfect for lifting up the mood for any occassion!
Deluxe and Premium versions will add more flowers and volume for that extra special touch.
You May Also Like
Florist Choice
Daily Deal
Send them a unique, one-of-a-kind arrangement handcrafted with a personal touch.
From $50.00