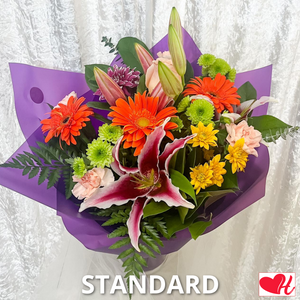 Designer Choice - Beautiful Rainbow (Colourful) - Vase Arrangement
Description
---
Let our skilled florists create you a vase arrangement with the best seasonal and accent flowers available for your special occasion!
Beautiful Rainbow will be a specially designed mix of colourful and alluring tones, splendid and angelic, that will add a dazzling radiance to any occasion. Beautiful Rainbow is a journey into excellence.
If you would like any specific colours or flowers added, please let us know in the notes and we can try to make it happen for you (based on availability)!
Deluxe, Premium, and Royal versions will add more flowers and volume for that extra special touch!
You May Also Like
Florist Choice
Daily Deal
Send them a unique, one-of-a-kind arrangement handcrafted with a personal touch.
From $50.00