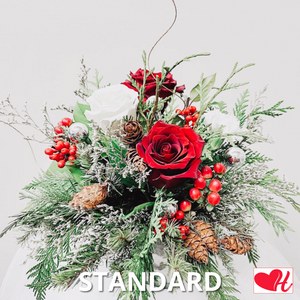 Winter Wonderland - Flower Vase Arrangement
Description
---
Winter Wonderland is a super cute design that incorporates nature's winter beauty. Fresh winter greens, pinecones, as well as red and white flowers all arranged beautifully into a joyous and cheerful art piece.

Any flowers that are not available will be substituted with the best designs in mind. 
You May Also Like
Florist Choice
Daily Deal
Send them a unique, one-of-a-kind arrangement handcrafted with a personal touch.
From $50.00