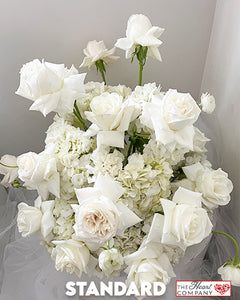 Clouds on Clouds - Vase Arrangement
Description
---
Beautiful classic white themed vase arrangement with roses, hydrangeas and seasonal accent flowers.

Glory Cloud is perfect for events such as weddings, baby showers, funerals and other milestone moments as white represents innocence and purity in many cultures. 
Deluxe and Premium versions will add more flowers and volume for that extra special touch.
You May Also Like
Florist Choice
Daily Deal
Send them a unique, one-of-a-kind arrangement handcrafted with a personal touch.
From $50.00