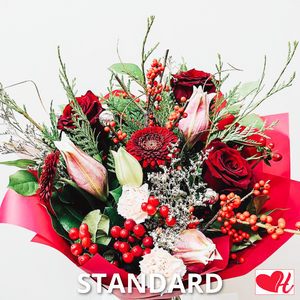 Holiday Twinkle - Designer Choice - Hand-Tied Flower Bouquet
Description
---
Celebrate the holiday season with our festive and fun designer choice bouquets! Let our artists pick the best seasonal florals available, and create a special bouquet for your loved ones!
Our designers will use a combination of reds and winter greens that will capture the holiday season's joyous feeling.
Any flowers that are not available will be substituted with the best designs in mind. 

You May Also Like
Florist Choice
Daily Deal
Send them a unique, one-of-a-kind arrangement handcrafted with a personal touch.
From $50.00