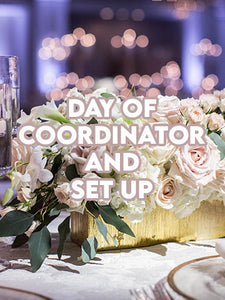 Description
---
A day-of wedding coordinator is a person responsible for making sure a couple's wedding day is executed perfectly.  Our role includes overseeing your vendors, creating and managing the timeline, and overcoming any last-minute challenges or changes that arise during the festivities, just to name a few. 
We are an essential vendor needed for any couple who wants to do most of the planning themselves, but knows they need a professional to execute all of their hard work planning the perfect wedding day. We take all your wedding details, get them sorted and organized, and make them simple by taking all of that hard work you did during the planning process and produce the much-needed day of the wedding "game plan".  
Trust us to give you peace of mind on your wedding day. We know you are fully capable of the planning; we are here for you to execute those plans so you can enjoy your wedding day!
About us:
-15 years experience in planning
-8 years experience in wedding planning
-Florist for the Fairmont YVR
-In business for 8 years 
What we do:
Wedding day timeline creation for the entire day of the wedding.
Be the point person for vendors – so questions are diverted away from you and your family.
Help identify any flaws in the planning or any detail that may be missing
Provide Wedding Management and oversee the entire event.
Works with current restrictions or socially distant guidelines related to any state mandates at the time, ensuring your wedding is set up properly for everyone's safety.
Make sure pictures run seamlessly and on time.
Direct and line-up your bridal party for the ceremony.
Cue musicians, entertainment, cake, toss bouquet and speeches to name a few
Work with your officiant to make sure your rehearsal runs smoothly.
Coordinate the change-over (or cocktail hour).
Oversee that your reception runs and looks as planned.
Set up and style all of your details and décor
Triple confirms that all vendors are on time and present.
PACKAGES
Day Coordinator & Minor Set Ups
We can help you set up registration tables, tables, curtains, florals, aisle runners, any decor etc.
Day Coordinator & Major Set Ups
This includes everything above plus setting up pipe & drapes, chair covers, lights, columns etc.
PLEASE NOTE WE ARE BOOKING INTO 2023
PLEASE CHECK YOUR DATES WITH US at contact@theheartcompany.ca
You May Also Like
Florist Choice
Daily Deal
Send them a unique, one-of-a-kind arrangement handcrafted with a personal touch.
From $50.00