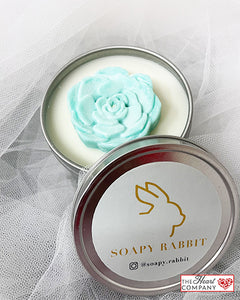 Champagne - Artisan Candles - Soapy Rabbit
Description
---
Champagne
Champagne has a beautiful flower design that captures the natural beauty of nature's gifts. The bubbly fresh aroma of champagne is sure to satisfy the senses of your loved ones!

A perfect add-on to any gift, Soapy Rabbit soy wax candles go perfectly hand in hand with other bath essential products.
These candles were carefully hand poured with all-natural 100% soy wax and incorporated with high-grade fragrance safe to use in candles.
Weight: 6 oz
Ingredients: Fragrance Oil and 100% Soy Wax
You May Also Like
Florist Choice
Daily Deal
Send them a unique, one-of-a-kind arrangement handcrafted with a personal touch.
From $50.00